Memorials » Ziomi Ruth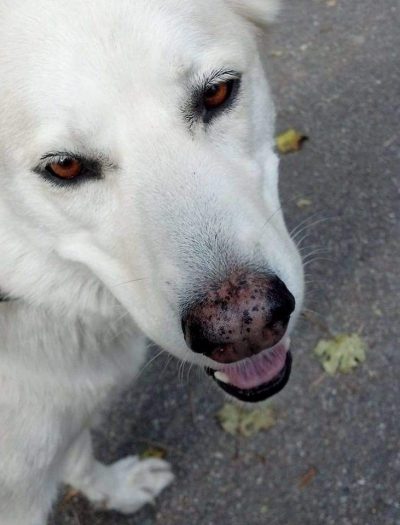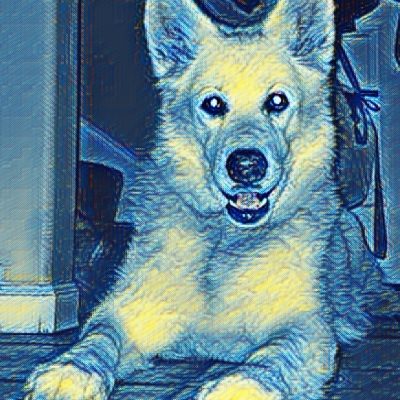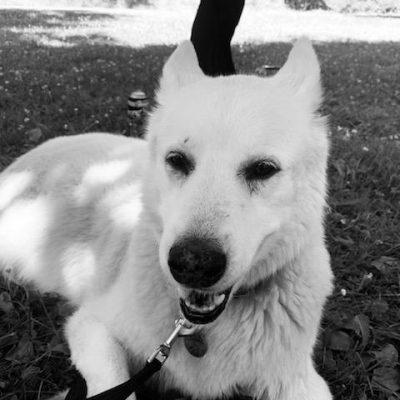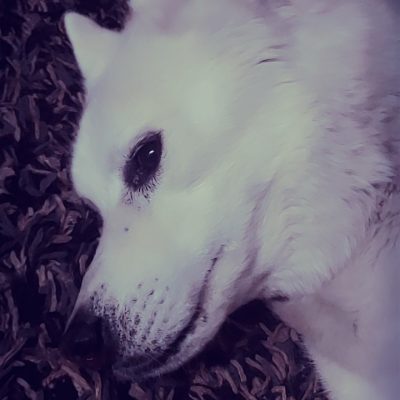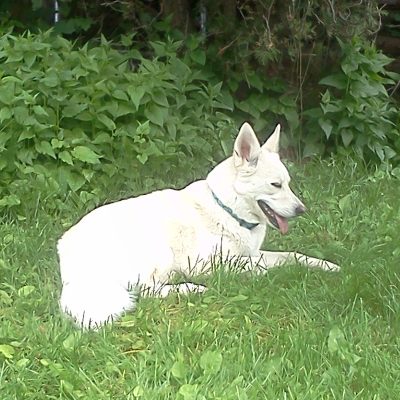 Ziomi Viewed 188 times
November 29, 2008 – May 11, 2022

Print Friendly Version
Check your settings when you are happy with your print preview press the print icon below.
Show Obituaries Show Guestbook Show Photos QR Code

Print
Share your Memorial with Family & Friends
Memorial
On Wednesday, May 11th, 2022 at 10:09pm we lost our beloved dog Ziomi. It was not a loss we were ready for. It has been a pain so deep because our love for her was so enormously high. Ziomi came into our lives on June 15th, 2011, after being adopted in the Flathead. It was love at first sight for her Mom when saw "Niomi's" picture on an adoption website. She arrived early the next opening day to wait for the shelter doors to open, and was worried that the people in front of her would get to her first. Luckily, the beautiful white siberian husky/ german shephard mix, with the most gorgeous auburn eyes, was meant to be hers. Once adopted and free from the shelter, "Niomi" was so excited to go for a walk with her new Mom. She pulled with the force of an ox, as far and as fast as she could, to get away from the shelter. She would not answer to her given name, but she finally answered to Ziomi. A fresh name for a fresh beginning. Ziomi traveled with her new Grandpa and Mom, on her Grandpa's bus, to her soon to be home in Missoula; where she would get to also meet her Dad, Grandma and Uncles. Ziomi was so excited to be with her forever family that she did not stop crying, with excitement, until she reached her new forever home. Her new family could never understand why someone would have ever wanted to get rid of her, she was the most amazing dog, but they felt so blessed that they had received the most wonderful gift. From the very beginning, Ziomi enriched and changed their lives. She filled their home with hope, love and laughter. She made their house a home. Every day was a special day because of her. Every day was a day to get up and live because of her. Ziomi decided from the very beginning that she did not want to be left alone, especially after spending a whole month in the shelter. She was very attached to her Mom and Dad. If they both had to work, she decided to join them. She had so much fun being the shop dog and playing with her other dog friends. She got many treats from freight drivers, coworkers and friends. To know her, was to love her. In her lifetime, she got to go on many adventures with her family. She traveled to many different states with them to go for walks and hikes; visiting many beaches, lakes, and mountain trails. She even got to go to places dogs rarely go, like the Las Vegas Strip. From her first walk at Greenough Park, to her last walk to Scotty Park, she was always so excited and happy to be wherever she was. The miles she got to travel were infinite. Ziomi was easy to please. As long as she was with a loved one, she was content. She enjoyed her deck and lying outside for hours on end. She loved being outside, especially after it snowed, and was always chilling outside in the spring and autumn days & the cool summer nights. She always smelled like the fresh outdoors. On October 21st 2016, Ziomi was diagnosed with diabetes. Two weeks later she went completely blind. She became extremely depressed and it was heartbreaking. Her family knew they could manage her diabetes and keep her healthy, but also knew that without her sight, she may no longer have the will to live. She still enjoyed walks, but began to spend her days and nights sleeping, slowly giving up. But, then her family found an amazing vet who said he could make her see again! On December 15, 2016 she had eye surgery that changed the course of her life for the better. Even though her vision wasn't as great as it once was, she was ecstatic she was no longer blind, and quickly became her happy self again. Ziomi was an amazing diabetic patient. Her Mom and Dad never had to struggle to test her blood, which they did at least twice a day. She would even lay down and get ready when she heard the glucose meter beep. She would always excitedly eat her prescription food and take her insulin shot willingly, knowing that afterwards she would get to enjoy lying on her deck or front poor steps, or go for a walk. She was the best girl. She would willingly hop in the bathtub to get clean. She never barked and was always told that she was the best dog on the block for not barking. She would let you know if she wanted out with her adorable bird chirps and howls, or let in with her paw taps on the doors. Everywhere she went, a stranger would comment on how beautiful she was. Whenever she stuck her head out of the car door windows, she made every passerby smile with her adorable happy face and ears. She danced for her food, she appreciated everything she had, and she never was anything but the perfect dog. She made her Mom & Dad so very proud and happier than they had ever been. She was told she was loved every day. She was cuddled and kissed on end. She never had to question if she was wanted. She knew she how much she meant to everyone. She was such a kind & gentle free spirit. She was told all the time how precious she was to her family, and that they were forever grateful to have her. Her mom's favorite song to sing to her was "8 Days a Week" because all the lines rang true to how much Ziomi was loved. Even eight days a week was not enough to show they cared. Ziomi was always told she would live to be the oldest diabetic dog and be in the guinness book of world records. Unfortunately, despite all of her blood work and x-rays showing a healthy dog, she took her last breaths at the age of 13.5. Her Mom, Dad & Grandma were able to be with her to the very end, and the last thing she heard from them was that they loved her. Our family has been devastated by the loss of our sweet Ziomi. It has been hard not having Ziomi in our lives, she was our best friend, our doghter, and was always by our side. We will grieve for her for the rest of our lives, but we also always know how lucky we were to have her. We cherished every second we had with her. We have millions of wonderful memories with her, with only one bad day, which was the day she left us. She is still loved every day and will always be our forever girl. We will always love you ZiZi, Baby, Snout, Girlfriend, Good Time Girl…together forever. Thank you so much for making our life so wonderful and complete. We were so grateful to have known you. You were one of a kind. You were the most precious gift. Ziomi was cremated and had a lovely memorial service on May 29th, 2022. We took a walk with her ashes, at her favorite place, Greenough Park, before putting her ashes into a one of a kind ceramic lotus urn. Her dad made her favorite wagyu steak for dinner, as her mom played her favorite songs. We lit candles, cried and remembered our favorite girl who will always be loved. Ziomi I have to say, once in awhile, in your life, you meet a friend that is everything. Somehow fate, destiny, (and with a bit of luck I believe) finds a way to bring you together in this huge universe. You find a friend that is complete, one that eventually becomes family, and the day you realize this is the day that you are changed forever. A friend like no other. One that listens when you speak, one that is reliable, one that feels your feelings; yet requires only one thing, for you to be the best form of yourself that you can be. One that, no matter how bad of a day they are having, their purpose is to make sure you know that they love you unconditionally, always; and things could be worse, and they have, but we made it through them together. One month ago now, we lost our beautiful beloved dog Ziomi, our good time girl, our best friend. No matter the circumstances, she always rose to the occasion. She was always ready to go on adventures and was the most reliable sidekick you could ever ask for. I would wake up and she always would greet me with a smile, a tail wagging and the warmth of the heart…that only real love can bring…and it changes you, it evolves you into something you never knew you were. This dog that we rescued, in so many ways, she rescued us in even more ways. She made me realize that life is so beautiful and so perfect, despite the shit situations you are handed throughout the daily. Take your dog for walk and look at that happiness and everything troublesome in your life just kind of fades away into the background. They are put on this earth to remind us that there ARE perfect things in this life on this earth. Despite her diabetes diagnosis, we managed to keep her healthy for years, through our dedication to this wonderful soft being of love. We gave her the best, normal life we could, because we loved her the same way she loved us. Unconditionally and eternally. I am sorry it took me so long to say a few words about her, we are crushed, as she was the one that always made us smile no matter what. She was happiness, love and pure joy for every moment we had with her. I am so grateful. Words truly can't express how grateful we are to have had such a loyal, wonderful dog to spend 11 years of our lives with. I had to let the sting of the quietness in our home and our lives settle down before I could sit down and cry again while I and write this. Thank you all for being so great to our dog, all of you that knew her. She was high maintenance, but really didn't require much, but love and attention, if that makes sense. For those of you that knew her it will. Thank you Lyndsey, the love of my life, for bringing that little soft white dog into my life and for helping me become a better human being together with her. And Ziomi…I know you can't read or hear this post, but I want my love and our love for you to be felt eternally through the people whose lives you touched and changed. My family, my friends: there will always be a "last time." The last ride, the last walk, the last smile, the last day. The last breath. The last memory you created together. Always cherish a great dog, as we will find, they are typically better humans than most actual humans. The last thing we said to her was, "We love you." You see, time will make things better, but the empty spot in our hearts and our lives can never be filled. Way too big. Way, way too big. Love you girl. Life isn't the same here in our home without you. We love you eternally and thank you. November 29th, 2008 – May 11th, 2022 Mom and Dad
Guestbook
Celebrate Ziomi's life with a short message, photo or video!

Add A Guestbook